By Rex Moore, Rock River Ranches
Originally printed in The Bison Rancher, October 2020
The year 2020 will be a year to remember and hopefully it will be about business survival. I wish I would have had 20/20 vison and a crystal ball for what was going to happen to me, my family and my business. Here is a short story about what happened and what my recommendations would be going forward in the new world we live in.
It was mid-March 2020. Business was slow. My part-time employees were gone. It was just me at Rock River Ranches in Commerce City, CO. The pet food side of my business had slowed way down and I was supplying bison to local Front Range Restaurants.
Then someone pulled the emergency brake.
In one week's, time I lost 80 percent of my restaurant business as they were all forced to close. I had just processed 8 head of bison the week before. What to do?
I told my landlord on Monday, March 22, 2020 that I was probably not going to be able to pay rent in the coming month. I was worried I could go out of business with the restaurants.
In desperation, I posted a classified ad on Denver's Craigslist and then I posted a message and picture on my personal Facebook page. I only had 120 friends. I rarely posted anything on social media. I posted that my cold storage facility was full of fresh and frozen bison and I had no one to sell it to.
I asked for America's help. I was real. I was vulnerable. 
To my astonishment, people started sharing my post with their friends. Their friends shared with even more. In a time when there was a shortage of meat in the grocery stores, my Facebook posting went viral. Within 5 hours it had been shared over 12,000 times. By the next morning it had been shared over 24,000 times. I have been told now that it was shared somewhere between 80,000 to 100,000 times. In early April, it went viral a second time all by itself. Americans wanted to help. They wanted to help the little guy, they wanted to buy direct from small business and to support small agriculture.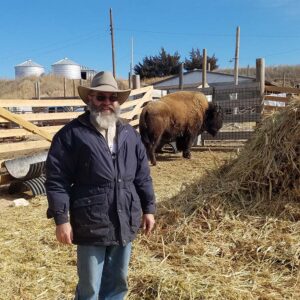 Mainstream media got wind of the story and I was interviewed by four television stations, one radio station and a newspaper. They wanted to report on the good story of America coming together in a time of crisis and how businesses were evolving at the speed of light to adapt, pivot, change the way they were going to stay in business. Be real, be truthful, be honest be humble and ask for help when necessary.
Rock River didn't have a website posted on the internet. It had been built but never posted. So my wife, Julie, created a JotForm order form to take orders. For a while I thought I had broke Craigslist and Facebook. They couldn't keep up with the inquiries. By 11 a.m. I was getting 1 to 3 orders per minute. I had 300 text messages on my phone coming in and my voicemail and phone just about quit working.  The response was overwhelming and humbling. I called back several part-time employees to help out that day. My wife came in to help with the avalanche of inquiries and people placing orders and coming by to pay cash to buy bison meat. This is called an extreme business pivot in today's terminology.
Overnight I went from selling bison meat to restaurants to direct to consumer sales all over the United States.
I was afraid of turning down orders. We took thousands of orders from people wanting to help me stay in business. We immediately could do curbside pickups and could start do local deliveries. We had so many orders that I needed to order in a semi-load of shipping coolers and that would take several weeks to get delivered. Eventually, after 12 weeks we got caught up on out of state shipments. My business grew instead of losing sales. I had 8 people working in various capacities to help with order assembly and shipping. We got to the point where we could ship 200 orders a week out of state and 100 deliveries and curbside pickups.
Recommendations
Where are we at today?  First, the overnight business pivot was necessary to stay in business.
Yes – I would have like to been able to plan ahead to have enough dry ice supply and shipping coolers in advance of the Facebook post.
Yes – I would have like to have had a website and an online store in advance.
The world has changed forever. It will not go back to the way it was before COVID-19. So how do you/we in the bison industry and small agriculture take advantage of this brave new world?
All farms and ranches should use social media.
We should all have a website as that provides validity and way to communicate with our followers.
We should all have an online store or at the very least an online order form. The American consumer is now more that ever used to buying almost anything online and shipped to their front door.
Start or use an online Farmer's Market with curbside pickup. Join with other farmers and ranchers in this online farmer's market to provide greater variety of food or protein's available.
Use CRM (customer relations management) software to communicate with your customer base.
Use all forms of social media and marketing forms online.
Challenges
To be able to sell direct to consumer here are the things to think about.
What is your delivery mechanism? Local delivery, curbside pickup, or shipping?
If you are shipping, where can you buy dry ice, shipping coolers and what shipping service you are going to use?
For shipping are you shipping ground or 2nd day? You can negotiate better rates in advance with UPS and FedEx as well as third party shippers.
Where are you located based on your customer base? If you are in California, you are not going to be to ship frozen meat to the East Coast by ground (which is more cost effective). 2nd day can be too pricey for the consumer in the days of free Amazon Prime shipping.
Are your profit margins good enough to cover the cost of shipping or do you charge extra for shipping like I do?
How do you balance selling the various cuts of meat in the right volumes? Do you have back up suppliers to buy from? I only harvest enough animals to fill about 80% of the highest moving items and then buy extra items from other bison producers.
Finding the right software to use and marketing companies.
What is your marketing area? The entire US or just a region of the US? Or is it just local to your state? How close is your ranch to a major metropolitan area for a start of a customer base?
Future
At Rock River Ranches we are forever changed. I have 3 full time employees now and some part-time help.  We will continue to sell to restaurants, direct to consumer and the pet food industry. We will continue to sell bison meat and a huge variety of items including non-meat items. We were pleasantly surprised by the inquiries for skulls, horn caps and bison robes. I had 20 bison robes in stock and had not sold one of them. Now we have sold 6 or more. I just got in 25 skulls and 10 are already sold. I will be able to sell hundreds of horn caps in the future (they make great dog chews) and more. So, think about selling every part of the animal.
Final Thoughts
2020 will be the year to remember in our business. How did we adapt and move forward? After a slow start of the year in the first quarter, sales are now increasing with our direct to consumer segment.
Be flexible, be willing to learn and change and be willing to USE SOCIAL MEDIA. 
If I had not been willing to try posting on social media none of this would have happened. Now we have thousands and thousands of followers on various social media platforms and have collected an outrageous amount of email addresses to direct market to. We have been fortunate and blessed to have survived so far in this new world. Soon maybe I will get a day off.