If you have any questions about your registration or late registration, please contact Board Secretary Jen Graves at jennifer.nmn.gray@gmail.com.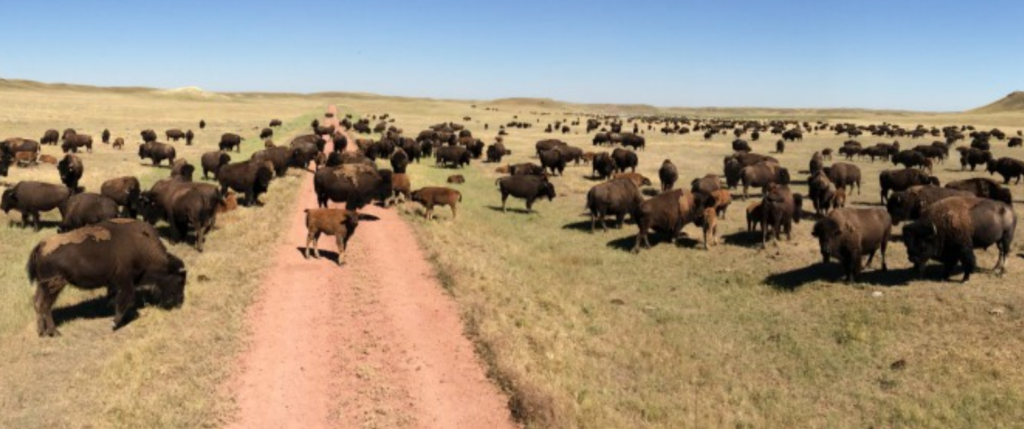 Arrive at Ranch: 8:30 a.m.
Tour Begins: 9 a.m.
Bring the family, enjoy a tour of their bison herd, pastures and working facilities. Hear from John Flocchini and Pat Thomson on holistic ranch management and engage in a general bison Q&A session. Enjoy a bison burger with all of the fixings, courtesy of Durham Ranch.
Following the tour, join fellow bison ranchers and enthusiasts for a bison steak dinner at Open Range Steakhouse in nearby Wright, Wyoming. (Fall Tour registration fee includes the cost of dinner, but not drinks.)
RMBA Registration:
Adult members: $45 each
Adult non-member: $65 each
Kids 6-12: $25 each
Kids 5 and under free
Hotel:
Our steak dinner will be held at the Open Range Steakhouse, which is part of the Wright Hotel (300 Reata Dr, Wright, WY 82732) and they are offering RMBA members an amazing rate: $89.99 a night (when their rooms are usually $134.99)! More information on the hotel is available at www.wrighthotel.com. Call (307) 464-6060 & tell them you are with RMBA to make your reservation today!
Get a sneak peek at the Durham Ranch through their beautiful website: https://durhambisonranch.com/.